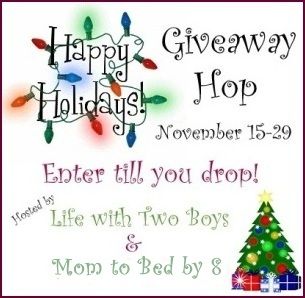 The holidays will be before you know it so to make things a little easier on you and your wallet we decided to give you an opportunity to WIN your gifts this year! Several awesome blogs have to come together to bring you some amazing prizes that will look great sitting under your tree Christmas morning! After you enter our giveaway make sure you hop around to the rest of the participating blogs for more chances to win! Along with all of the individual prizes we also have TONS of awesome Grand Prizes for everyone on your list!  Make sure you enter to win the Grand Prizes here after you enter to win the prize from Cheap Is The *New* Classy
!
Zoobies Pets
Does your little munchkin love falling asleep on their stuffed animals? Do they love snuggling up with them? Well, than you need to get your baby or toddler a Blanket Pet from Zoobies. Zoobies offers many different snuggly-type products for your special baby. Some of the things they offer are Book Buddies, Duffel Dogs, Storytime Pals, and more.
We chose a Blanket Pet. They had many different animals and it was hard to choose, but in the end we ended up choosing Kojo the Croc blanket pet. Other animals tempted us too such as the zebra, the hippo and the tortoise. Here is what the website has to say about our furry little friend..
"Coming to you from Africa's wild Okavango Delta, this cuddly croc's toothy grin is sure to warm your heart. Not only is Kojo an adorable crocodile, but also a comfy pillow and super-soft blanket all in one. Perfect for road excursions or just cuddling in bed. Kojo also makes for the ideal baby shower gift."
When we saw this snuggly animal, we knew that it would be a great gift for our friend's newborn baby. The blanket inside the alligator's belly was super-soft, making it ideal for a baby to snuggle up in and stay warm! I have to say though, I am a teenager and I was quite tempted to keep Kojo the Croc. He is just so warm and soft!
Next time around, I would like to get Hello Kitty the Storytime Pal. Their Storytime Pals are just like the Blanket Pets except they are all famous characters from famous stories. Some of the characters they have used are Clifford, Spot, Llama Llama Red Pajama, and Curious George. So, instead of getting the babies in your family the same old thing such as onsies and bottles, it's about time you got them something worthwhile. It's about time you got them something from Zoobies.
Buy Zoobies
Save 20% off any Zoobie product of choice right now! Use the code "Parenthood" at checkout
Socialize with Zoobies
One lucky Cheap Is The *New* Classy reader will win a Zoobies Blanket Pet of their choice! All you have to do is enter the easy peasy rafflecopter below! Be sure to come back often for the daily entries for more chances to win! Good luck!
This item is featured in Cheap Is The *New* Classy's 2012 Holiday Gift Guide. If you would like to see more items featured in the 2012 Holiday Gift Guide click HERE!