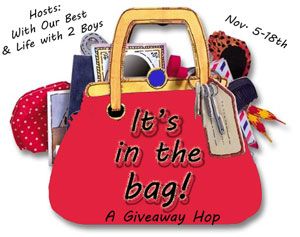 Welcome to the It's in the Bag Giveaway Hop hosted by Life With Two Boys and With Our Best! This is a "what's in your purse?" themed giveaway hop and will feature a variety of products that women find in their purse. Each of the participating blogs has an awesome prize worth at least $25 so after you enter my giveaway be sure to hop around to the rest of the blogs on the linky below.
***Be sure to look below for Cheap Is The *New* Classy's Bungalow 360 Giveaway***
Thanks to our amazing sponsor, Maggie Bags, we also have a fun Grand Prize for one lucky winner… A stylish Campus Tote and coordinating Key Chain (ARV $104)! Maggie Bags offers fashionable and eco-conscious handbags and accessories that are constructed from genuine automotive seat belt webbing. Ready to make a purchase? Use code: InTheBag for 25% off any Premier Collection purchase.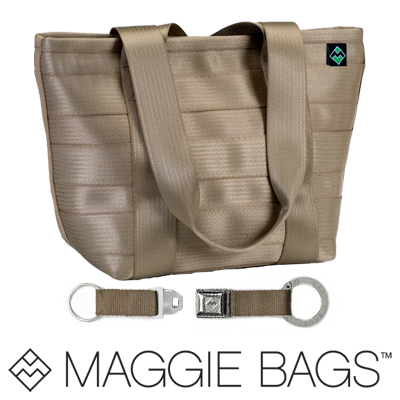 Win a Bungalow 360 Isabella Whale Pocket Bag
I love fashion, but it seems like all the cute things are so expensive these days! Also, they are so harsh to our environment. Bungalow 360 is sold in over 2000 stores, their products are earth friendly, organic, and totally cute! The creators even show their dedication to saving the planet by expressing their love for recycling, use of solar energy, driving hybrid cars, and being kind to animals of all sorts! Bungalow 360 offers totes, satchels, pocket bags, messengers, reusable grocery totes, artist totes, wallets, belts, scarfs, hats, mini bags, and much more! My favorite part about this company is that a portion of sales go toward animal rescue!
The first thing we decided to get was the Isabella Whales Pocket Bag. This bag is delightful! It is made of 100% natural cotton canvas that has green and blue whales all over it. You will also find that this bag is very spacious and contains six large pockets on the outside (two that can be shut). On the inside, I was happy to find that is was also cute because it was green with white polka dots! Also, you will find that there is a zippered area, a phone pocket, and yet another spacious pocket.
The next product we picked out was the Seaturtle Grocery Tote. It is 100% lead free natural cotton canvas. The great thing about this is that it is extra large and has two bottle pockets inside! The print on this tote is adorable! It is white all over. On the front and back there are green and blue turtles that have peace signs on them. On the sides, they have blue, green, and pink recycle signs.
The last thing we picked out was the Dolphin Wallet. This wallet is 100% natural cotton canvas. This wallet is so cute. It is white with purple and pink dolphins. On the inside it is purple and has white polka dots all over. Meanwhile, the outside has a zippered pocket that is spacious (the zipper also has a peace sign on it!). The inside has another zippered space and places to put cards, bills, coins, and anything else that you might need to carry in your wallet.
I love Bungalow 360 so much! All the products we got from them are cute, durable, and are a big part of our lives now! The grocery tote comes in great use when we go shopping and don't have as many arms as we would like, so that we can carry everything at once without harming the environment with plastic bags!
Socialize With Bungalow360!
Like Bungalow360 on Facebook!
Follow Bungalow 360 on Twitter!
Win an Isabella Whale Pocket Bag from Bungalow 360!
One lucky Cheap is the *New* Classy reader will win an Isabella Whale Pocket Bag from Bungalow 360! Just enter the easy peasy Rafflecopter Below! Be sure to come back daily for more chances to win!
This item is featured in Cheap Is The *New* Classy's 2012 Holiday Gift Guide. If you would like to see more items featured in the 2012 Holiday Gift Guide click HERE!