How To Straighten Wet Hair With a Hair Straightener ~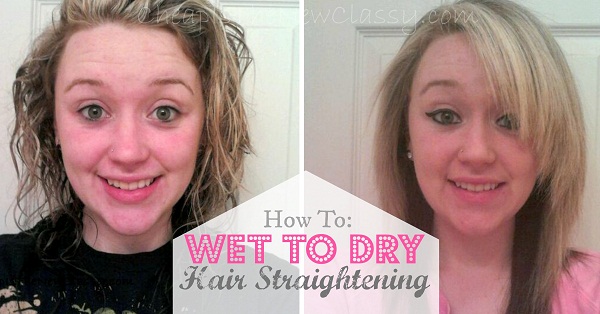 If you have read many of my previous posts and reviews, you will know that I love anything to do with hair styling! Also, you will know that I adore Flat Iron Experts! It has been a while since I've had the opportunity to work with them, that is why I was thrilled to get to review yet another one of their awesome hair styling products, a wet to dry hair straightener.
How To Straighten Wet Hair
After you wash your hair, be sure to towel dry it. Then, I suggest you put the shirt on that you want to wear – otherwise, you might mess up your hair when changing. But that is completely up to you. Turn on your hair straightener and let it heat up. I use mine at 400°. I use this temperature because my hair is thick and course. If you have fine hair or hair that is damaged, you need to start out much lower and work your way up to find the correct temperature for you hair.
Next, divide your hair into sections. I like to start from the bottom but it really doesn't matter. Do whatever makes you comfortable and works best for you. Just try to make sure that the wet hair that you pull out to straighten does not lay on top of the already straightened hair – otherwise you will have to do touch ups.

If you like the look that I created with this straightener, then you will want to pull the top straight up while you use the hair straightener because it adds volume. Sometimes I will go over the same strand a couple of times. Be careful – you can burn your hand doing this because the hair will be hot. You might want to invest in a heat glove.
Also, I like to straighten my bangs in the opposite direction that I want them to go. I find that this helps the style last longer and also creates more volume. By the time you are done with the whole head, your hair will be dry and your style will be finished. Because of this, using this type of hair straightener can be a big time saver.
Avanti Ultra Wet To Dry Hair Straightener
The Avanti Ultra Wet To Dry Hair Straightener arrived just in time, too. Not even a day before it arrived in the mail, my favorite straightener broke! *gasp* The Avanti Ultra has a cool and chic look to it. My favorite quality about it is that it doesn't even weigh a pound! This is great, especially when you have to hold your arms up for a considerable amount of time so that you can do your hair.
Another wicked feature about this straightener is that, after you turn it on and choose your temperature, it shows you exactly what temperature it is at and counts up until it has reached the desired temperature. Also, it heats up in less than a minute! One of my previous straighteners took almost five whole minutes to heat up. Yes, in the grand scheme of things five minutes isn't a long time, but when you are in a hurry to get ready and have somewhere to be, five minutes can seem like an hour.
Also, whether you have fine hair or coarse, this straightener has a digital screen that helps you to see clearly and change the temperature to best fit your needs (it goes up to 450 degrees Fahrenheit). When I first used this straightener, I was kind of nervous to use a straightener on my WET hair! I mean I was sure it was going to fry my hair. Not to worry, I have now used the straightener many times and each time it has done exactly what I have needed it to do and has yet to "fry" my hair! It glides on my hair gently and leaves my hair dry, soft, and non-frizzy! I absolutely adore my new straightener!
Socialize With Flat Iron Experts
Facebook / Twitter / Pinterest / YouTube