Avocados From Mexico ~
This is a Sponsored post written by me on behalf of Avocados from Mexico for SocialSpark. All opinions are 100% mine.
If you are still looking for something scrumptious to serve at your gatherings, why not consider using
Avocados from Mexico
? Personally, I love guacamole, and homemade guacamole is awesome and a tasty and pretty good for you snack – especially if you serve it with pita, instead of tortilla chips.
Avocados From Mexico
If you love cool stuff you need to check out the
Avocados from Mexico Cafe Press store
. I just ordered myself a really cool coffee mug and I can't wait until it gets here. I especially love the big writing making it look really cool. And let's not forget the fact that it is microwave and dishwasher safe. Those are definitely necessary qualities in my house! The also offer tons of other cool swag including coasters, platters, tees and even hoodies, so there are tons of products to choose from for everyone in your home.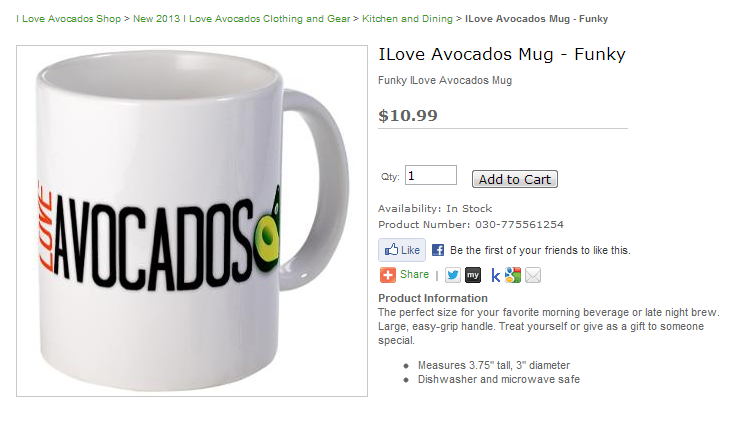 You can also get some really cool Avocados From mexico branded items from the
Share the Avocado Love Facebook app
! Some of the cool things offered are blogger badges, ringtones, wallpapers, virtual gifts and so much more. Send your friends some Avocados From Mexico love today! I used my blogger badge for the top picture in this post. Isn't that cool? You could really put that anywhere that you would like to share some Avocados From Mexico love.
Avocados From Mexico Recipes
Avocados From Mexico has lots of tasty recipes to out on their website. Personally, I would really like to try the Tequila Guacamole and the Avocado Chicken Pockets. Yum!
Don't forget to attend the #iloveavocados Twitter party on February 7th between 3:00 and 4:00pm EST. All you need to do is follow @guacgrl or hashtag #iloveavocados to be a part of the fun! They will be offering a lot of really cool prizes! $500 in prizes, to be exact. You might even score some really cool Avocados From Mexico items for yourself!