This is a Sponsored post written by me on behalf of Kmart for SocialSpark. All opinions are 100% mine.
With the holidays drawing near, wouldn't you love the ability to get all the seasonal shopping out of the way now so that you can actually enjoy your family later? That is what makes Kmart so great! With Kmart's
free layaway
 program, you can get the gifts you want now and not worry about it later. You won't have to stress about finding that hot toy that is cleared out of every store because you will have it stored away at Kmart – safe and sound.
When you layaway your 
holiday gifts
 at Kmart, not only do you get peace of mind, but you also get the best layaway plan out there today, hands down. Kmart layaway has so many options that simply aren't available with competitors. For instance, I really love that you can layaway items from the comfort of your home! With no service fee! I don't know about you, but I like to save every penny I can, and I have no intention of spending any of those pennies on service fees. Why should you have to pay a store to hold items that you are buying? Kmart also offers a full range of items for layaway, unlike competitors who only allow you to layaway certain items in their store. You can also layaway something in one state and pick it up in another! With cars already crammed full from holiday traveling, how convenient is that?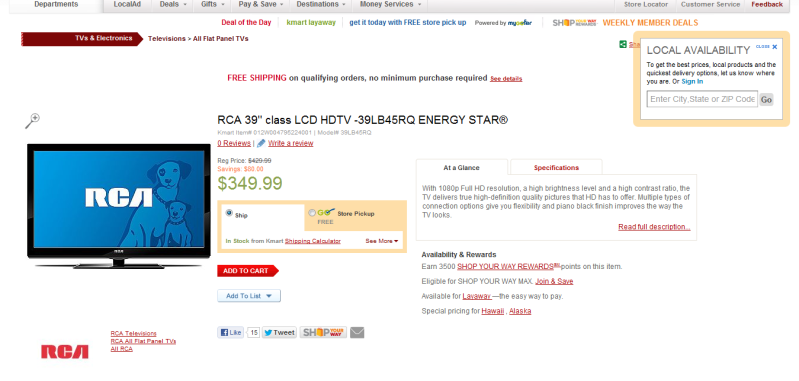 Should anyone feel the need to buy this TV for me for Christmas, I definitely won't complain. 😉
What's more? You could win big with 
Kmart's Big Layaway Giveaway
! From now until November 17th, every Kmart will be giving away a layaway weekly – one giveaway per store per week! Just put your purchases on Kmart layaway and every week you have the chance to have your layaway paid off! Read here for official rules and details! 
http://www.kmart.com/layawaygiveaway
So use Kmart layaway now – so that you can enjoy your family and friends in the comfort of your home for the holidays!