Kids Konserve Lunch Sack ~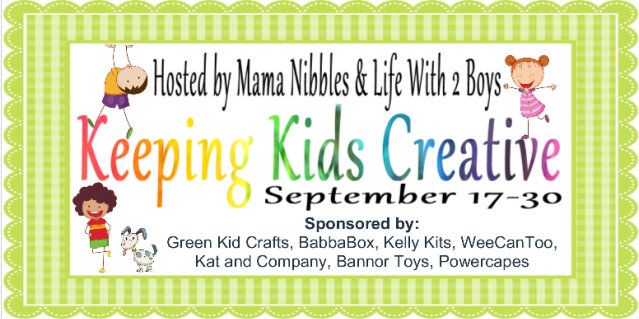 The last week of September has been Nationally designated as "Keep Kids Creative Week". While this week is often celebrated in schools with many fun activities to help stimulate kid's creativeness, parents can take advantage of this week by doing some really fun things at home as well. Many parents struggle with finding time to fit creativity in but there are lots of products out there to help us with getting those creative juices flowing.
Mama-Nibbles
and
Life With Two Boys
created this event to help you find some fun products to keep your family creative not only during "Keep Kids Creative Week" but any time of the year!
Keeping Kids Creative begins on September 17th at 12:01am EST and ends on September 30th at 11:59pm EST.  Along with the awesome prizes that each of the participating blogs are offering we also have 3 Grand Prizes thanks to our sponsors BabbaCo, Green Kid Crafts, Kelly Kits, PowerCapes, Bannor Toys, We Can Too, and Kat and Company.
One lucky Cheap Is The *New* Classy reader will win a Kids Konserve lunch sack. This lunch sack is full of coupons for FREEBIES from Annie's Homegrown, Stonyfield YoKids Organic Yogurts, Honest Kids Organic Drinks and Seventh Generation. With our FREEBIE coupons, we chose …
Honest Kids Berry Berry Good Lemonade (8 pack) – This organic juice offers 1/2 the sugar of the leading kid's drink. At only 40 calories per serving, this drink is sure to please. My daughter absolutely loves it and has been taking it to school with her. 🙂
Annie's Homegrown Cheddar Bunnies All-Natural Baked Snack Crackers. They have no artificial preservatives or ingredients. They are also made with Organic Wheat Flour and REAL cheddar! They taste very similar to a National Brand of another animal 😉 but they are far healthier. 🙂
Stonyfield Organic YoKids Squeezers – These are by far my daughter's favorite item that we were able to get with our FREEBIE coupons.  We chose Strawberry and she LOVES them!
They have…
No high fructose corn syrup
No artificial ingredients
A good source of calcium and Vitamin D
6 live active cultures
We were able to find all of these items easily at Food Lion. Our local Food Lions just so happen to be out of Seventh Generation Detergent right now. The coupon is high value – up to $18.75, so we are going to use it in Winston-Salem this weekend if we have not found it here by then. I will definitely let you know how it works as soon as I get it. I have heard nothing but good stuff about it so far from others that I know who have used it, so I can't wait to try it for myself. 🙂
Who wants to win a Kids Konserve Lunch Sack and all these Organic Products?
How is that creative you ask? Well, our can not be creative without proper nutrition. With Kids Konserve, kids can take their lunch to school in really great and cool looking sacks without wastefulness. All of their products are meant to help the environment! Then our kids will be ready for whatever the teacher has in store, from great art lessons to wonderful creative writing assignments! Your lunch sack will also have great freebies coupons inside for products like Annie's Homegrown items Stonyfield YoKids Organic Yogurts, Honest Kids Organic Drinks, Seventh Generation, so that YOU can pick our what is best for your family! 🙂 Be sure to hop through the linky for tons of other prizes after you enter below! Good luck!
Disclaimer: Please note that the Keeping Kids Creative hosts and participating bloggers are not responsible for sponsors that do not fulfill their prize. We have represented each sponsor with the expectation that they will fulfill their prize in a timely manner. While we are not responsible, we will make every effort to assist the winner in obtaining their prize.